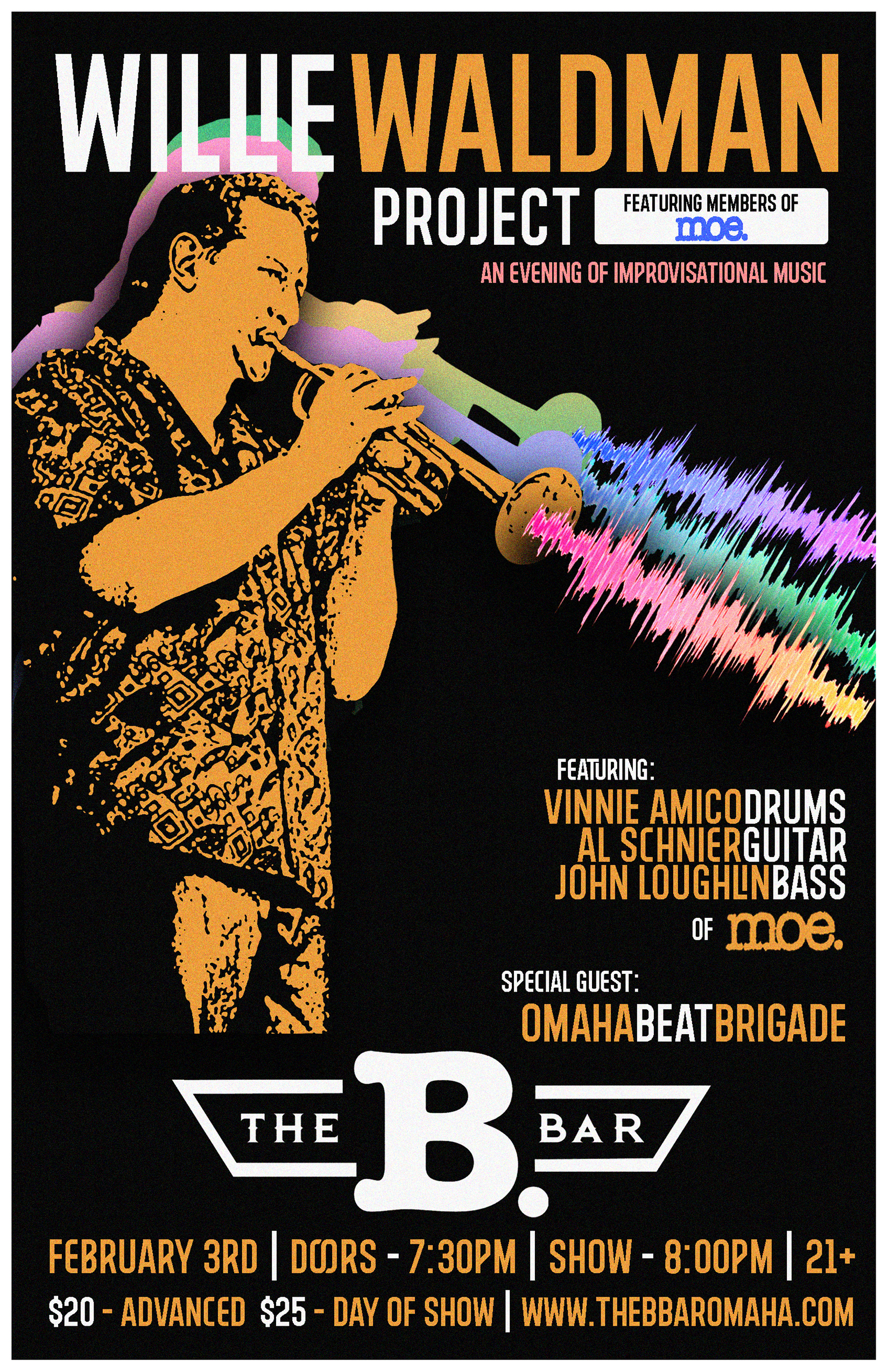 Join Willie Waldman as he hosts an epic all improvisational show with three members of moe. and local Omaha percussionist Adam Langdon.
Tickets: www.eventbrite.com/e/willie-waldman-project-womaha-beat-brigade-tickets-233653533007
$20 Pre-sale
$25 DOS
Doors at 7:30
Show at 8:30
Willie Waldman – Trumpet
Vinnie Amico (moe.) – Drums
Al Schnier (moe.) – Guitar
Jim Loughlin (moe.) – Bass
Adam Langdon (Omaha Beat Brigade, Rhythm Collective) – Percussion
Willie Waldman returns to Omaha for his first time ever at The B Bar! This time he is joined by more than half of the acclaimed rock and jam band moe. and member of many Omaha bands, Adam Langdon. Join Vinnie, Al, Jim, Willie and Adam (and maybe some special guests!) on February 3rd for 3 sets of improvisational music. Omaha Beat Brigade will open the night with a one hour set from 8-9pm. Get your tickets while they last, limited capacity venue. 21+
———————
Video Clip of Willie Waldman Project:
Video clip of Omaha Beat Brigade:
THERE'S ONLY X AMOUNT OF TIME. YOU CAN DO WHATEVER YOU WANT WITH THAT TIME. IT'S YOUR TIME -LOU REED
The vibe of any joint gets elevated by live music. The night becomes more electric. If you're into great live music, drinks and bar games, The B. Bar is the place to be with friends. We have a new band performing every week – plus shuffleboard, video games and darts. Come play with us.